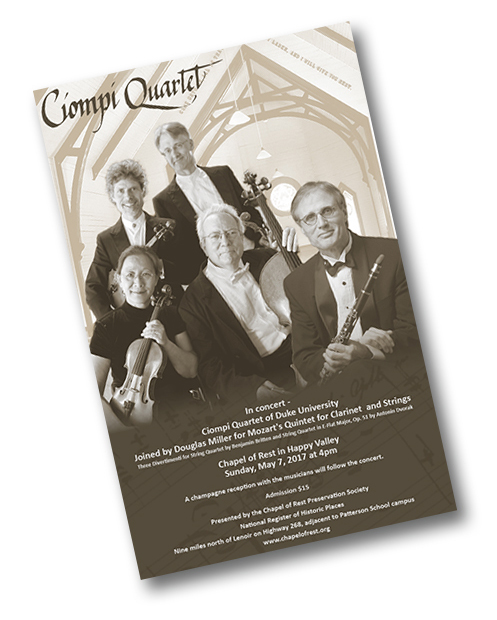 CONCERTS AT THE CHAPEL
The concert series has been ongoing since 1984. One concert is held each spring and fall in the acoustically perfect sanctuary.
UPCOMING CONCERT:
Ciompi Quartet of Duke University
Joined by Douglas Miller for Mozart's Quintet for Clarinet and Strings
Chapel of Rest in Happy Valley
Sunday, May 7, 2017 at 4:00 pm
Three Divertimenti for String Quartet by Benjamin Britten and String Quartet in E-Flat Major, Op. 51 by Antonin Dvorak
A champagne reception with the musicians will follow the concert.
Admission $15
This concert is presented by the Chapel of Rest Preservation Society. 
Listed on the National Register of Historic Places.
The Chapel of Rest is nine miles north of Lenoir on NC Highway 268, adjacent to Patterson School campus.
Recent Concerts at the Chapel...